Description
The Swiss Galoppers Hoof boot is manufactured in Lupfig, Switzerland, using the 2-component principle from 100% recyclable plastic.
The *TPU sole profile is extremely abrasion resistant, with a lifetime of up to 2,000 riding kilometres.
The flexible, shock-absorbing insole is easy on the joints and prevents the boot from turning on the hoof. The fastening strap made of special resistant Velcro allows easy and quick putting on and taking off. The bale protection offers an ergonomically optimal fit for most hoof shapes. For longer hooves, pronounced bales and high heels, we recommend the SG-L.
The SG is the ideal boot for the whole year.
The soft component in the bulb area guarantees an optimal adjustment. The soft ray bedding of the insole has a shock-absorbing effect and prevents the boot from turning on the hoof.
Scope of delivery:
> 1 pair of hoof boots with retracted fastening straps, a pair of soft bale pads and a pair of pasternstraps
> The boot is supplied with two connecting pieces made of the same durable TPU plastic as the hoof boot. These can be individually exchanged to suit the hoof shape, heel position and bale size.
Size chart
Swiss Galoppers (+L-Size)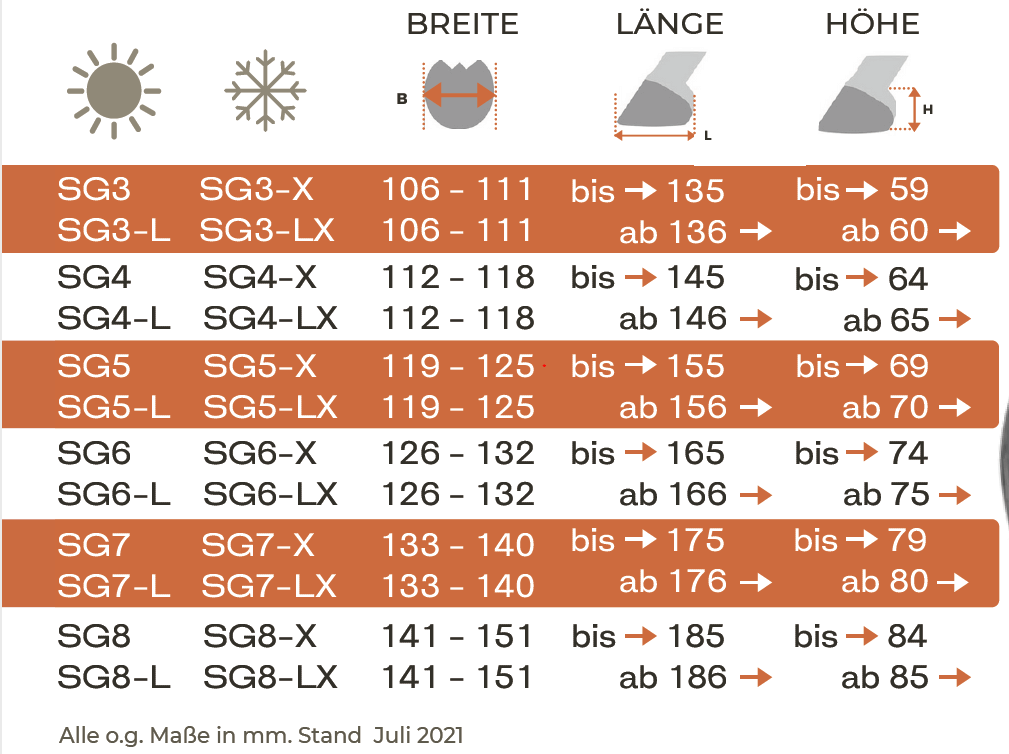 The L-version of the Swiss Galoppers hoof boot is especially suitable for somewhat narrower, longer hooves, bulging bales and higher heels.