Description
Mud Straps are retaining straps for Scoot Boots.
Useful in extreme conditions such as deep mud, mountainous terrain, jumping, cross or when the boot is not a
100% with the normal pastern strap. 
Made of thermoplastic urethane (TPU), slightly elastic. 
The mud strap is fed through the bale holder from the back and then closed at the front. A finger should have good space under the strap. 
A larger size can be used, depending on the thickness of the pasterns !
Scoot Boot discontinued the production of coloured mudstraps!
Therefore, please specify one or two additional alternative colours when ordering, as we no longer have all colours in stock in every size.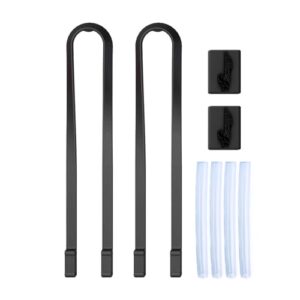 When you buy a pair of Mud Straps, you will receive
– 2 Mud Straps
- 2 Mud Strap cuffs
- 4 Mud Strap Sleeves (to improve fit or if the horse's skin is sensitive/irritated).
Scoot Boot Mudstraps are available in the following sizes:
Pack
Length

approx.


for Scoot Boot size
XXS
22 cm
00-0
XS
23 cm
1-2
S
24 cm
3-4
M
25 cm
5-6
L
26 cm
7
XL
27 cm
8
XXL
28 cm
9
XXXL
29 cm
10-11
Note - as there are so many variables to the size of a horse's upper hoof, the mudstraps may be one size too small. If this is the case, you can easily extend the length by 10 mm (3/8″), which is the length of the next size up.
Do this by heat stretching (see second video).
Video instruction: Attaching the mudstraps to the Scoot Boot

Video: How to fit the mud straps

-Adjust the length of the mudstrap (if necessary)