Description
The Swiss Galoppers Hufschuh wird in Lupfig, in der Schweiz, im 2-Komponenten-Prinzip aus 100% recycelbarem Kunstoff gefertigt.
Das *TPU Sohlenprofil ist extrem abriebfest, mit einer Lebenszeit von bis zu 2.000 Reitkilometern.
The soft component in the bulb area guarantees an optimal adjustment. The soft ray bedding of the insole has a shock-absorbing effect and prevents the boot from turning on the hoof.
For the 2 versions with spikes, X und LX (L-Version) ist die Sohle ist mit 6 hochwertigen, eigens für den Swiss Galoppers Hufschuh entwickelten Spikes versehen. Diese besitzen einen abriebfesten Hartmetallkern. Jeder Spike wird in dem dafür vorgesehenen, verstärkten Sohlenbereich von unten eingeschraubt und zusätzlich verklebt. Die Druckverteilung ist optimal damit keine Druckstellen am Huf entstehen.
Scope of delivery: one pair of hoof boots with tucked-in fastening straps, one pair of soft pads and one pair of fetlock straps
Size chart
Swiss Galoppers (X+ LX-Größe)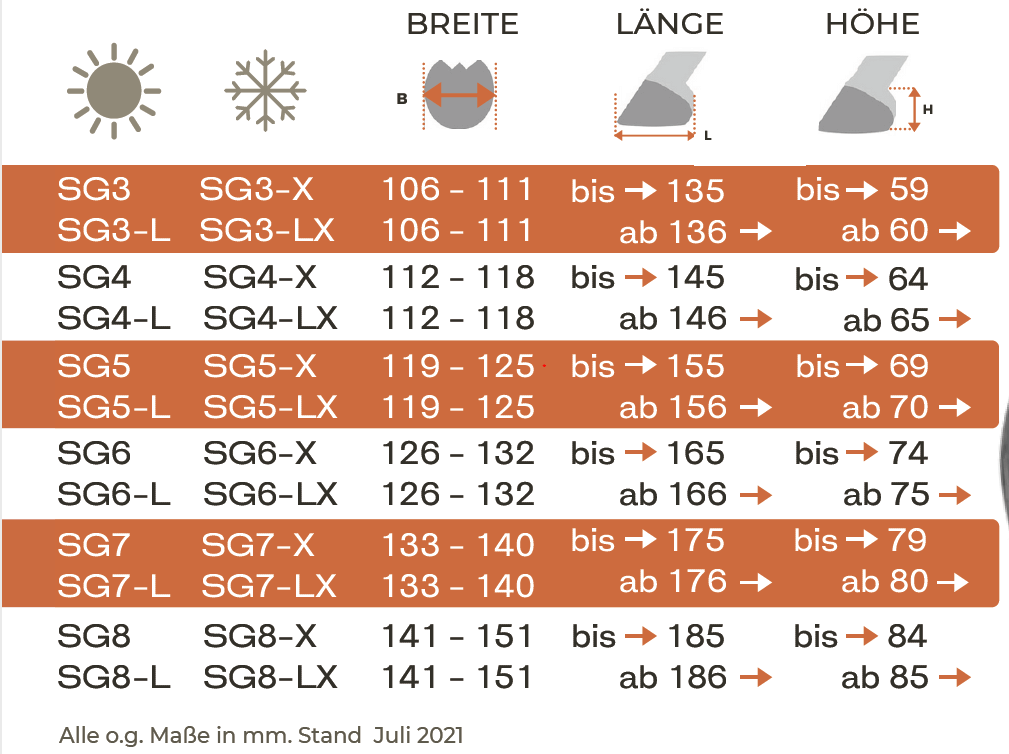 The L-version of the Swiss Galoppers hoof boot is especially suitable for somewhat narrower, longer hooves, bulging bales and higher heels.